As a young girl, my elderly neighbors would hide little gifts around their house because I loved treasure hunting. It was our special version of hide and seek. They would hide the "treasures," and I would spend hours searching for them. The excitement at what I would find was often more gratifying than the actual gift. Reflecting back, it was their way of keeping me occupied and not having to answer the 10,001 questions I always asked.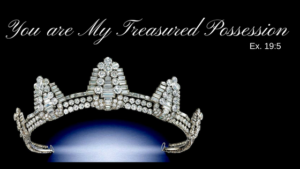 One day during my hunt, I couldn't find anything. I was sad and ready to go home. That's when "Grandpa Wells," as I called him, sat me on his lap and told me that I wouldn't find a treasure that day because they had not hidden one. He said that I was God's treasure. They loved me and wanted to make sure I knew how special I was. They reminded me often that I needed to look to the Lord for His prize. He and Grandma Wells said everything you need to be great is already in you.
After that day, our treasure hunts became sporadic because they and my beloved Auntie spent hours telling me what a treasure I was. They said God loved me so much that He made me in His image and according to His likeness. I didn't understand it all then, but I am grateful for everything they instilled in me.
It's what I want you to know, my Sister. You are God's masterpiece, created anew in Christ Jesus so you can do the good things He has planned for you. The new life you received at salvation cannot help but show itself in the good works God has predestined for you. Yes, indeed, He who has begun this good work in you is well able to complete it until the day of Jesus Christ.
You are God's treasured possession. He loves you so much that you bear His image and His likeness. You are the crowning of His creation, fearfully and wonderfully made, perfectly formed, purposefully planned, and uniquely gifted. The gift of you was formed not just to exist; no, my Sister, you have been created to have great influence, make an impact and leave a legacy.
Did you know that even when you didn't know God, He knew you? He knew your name, your height, and your likes and dislikes. Not only did He know you, but He also gave you a title of honor; He called you daughter of the Most High God. You, yes, you, are royalty. It is time you come from behind the palace walls and be hidden no more. You are like the caterpillar breaking forth from the cocoon and becoming a beautiful butterfly.
So, my dear Sister, I encourage you to walk confidently, knowing that your uniqueness is a masterpiece handcrafted by God for His glory. You are more precious to God than the rarest diamond or most perfect natural pearl. Like a pearl, the only gem made by a living organism, you are the only creation made in God's image. You are a precious jewel, a rare treasure.
You have greatness in you. God, your Father, is ready to present you, His masterpiece, to the world. He's prepared you to take wings and fly. He's ready for you to flourish, to prosper, and be great. So, I say to you: Go forth. Shine. Be. Do. The King has unveiled the hidden treasure in you.